Extra elements: exporting the PDF
(InDesign: go to any page in the magazine to follow along with this example.)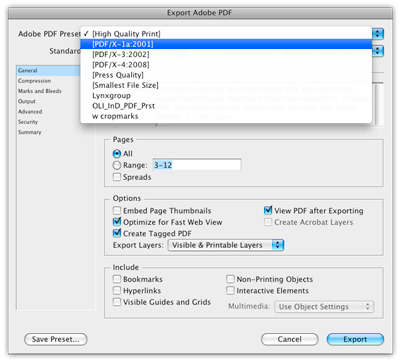 Its time start making your PDF! It's not widely known that you don't have to go through the Export dialog to create a PDF – the Adobe PDF Presets menu item in the File menu gets you there with a few less steps. InDesign has a range of preset PDF settings for common types of output: Smallest File Size for the web or email, High Quality Print for output to your desktop printer, and Press Quality for prepress printing— although why this preset doesn't have a designated bleed (a "must have" for offset printing) is odd.
The subset 'PDF/X-1a:2001' is designed for CMYK-only workflows and is widely accepted; you can typically send this kind of PDF anywhere in the world and it'll print reliably. As with all of the PDF/X standards, font embedding is required - which is the reason for the previous font check.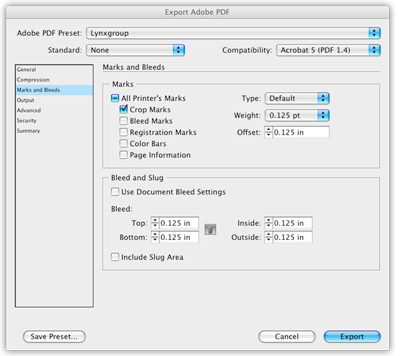 Ink coverage is defined by your output intent. Go to File>Export>Save>Output, and change the top button (Adobe PDF Preset) to the new selection. From there you can select the final output profile name in the PDX/ prompt near the lower third of the dialog box. You can modify any of the presets: such as adding bleed to the Press Quality default, or setting up the specifications determined by the printer. Save that preset by clicking the button at the bottom-right corner of the dialog box.
This will be available inside InDesign and (with the exception of PDF/X-4) inside Acrobat Distiller, as well.
The example at left is a preset for a local printer in Salem- saved to their specifications.